Welcome to the website of Westmead Team 88.
This page lets you know a bit about us and how to meet us "in the flesh" on or off the bike and we would love to see you riding with us along the Cheshire lanes and up in the Peak District.
New members are always welcome.
We are a cycling club based in East Cheshire and we offer a wide choice of activities with our weekly Sunday club runs starting in Wilmslow, sportive riding, on and off road cycling plus our very successful Time Trial series in the Summer months.
We also have various 'ad hoc' events during the main riding season that are discussed at our regular club meetings. We are very open to any new ideas for any events that members are keen to do.
Brief background….. a group of cyclists got together in 1988 and formed "Westmead Team 88" by organising races, club runs and social activities for members. We still have some of the founding members in the club.
Paul Green of Handforth bike shop Rick Green Cycles, has been the key player since its inception and so many of our activities are linked to the shop.
The club has had a World Champion, National Champion and an Olympic Bronze medallist amongst its members.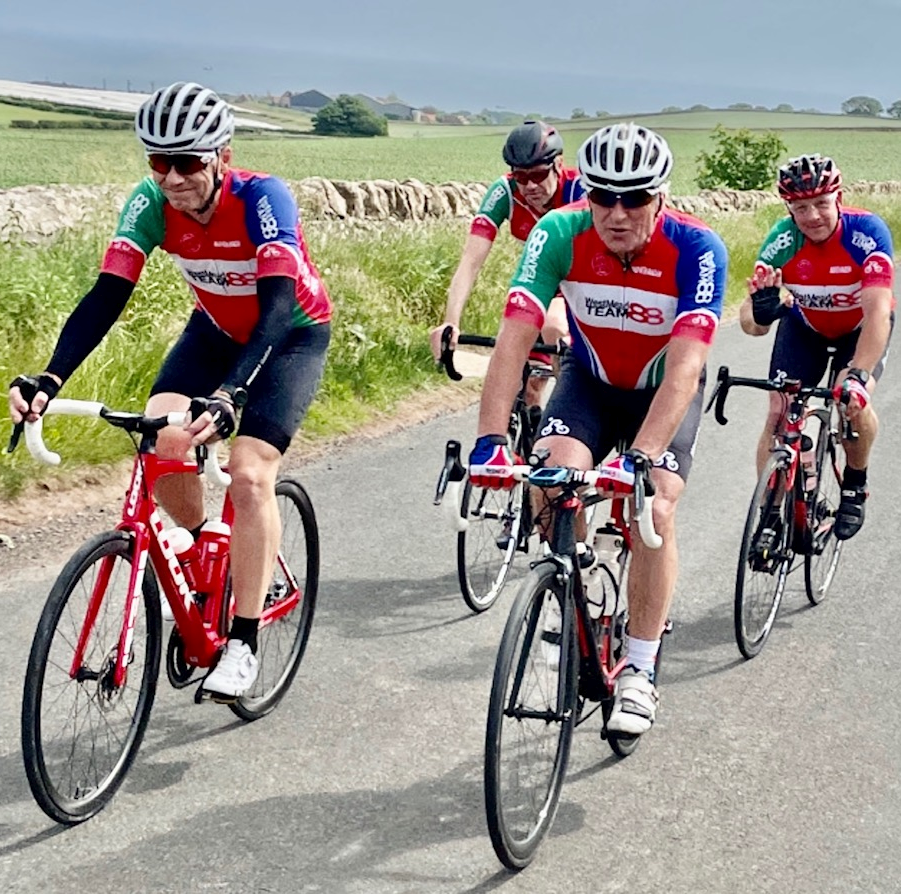 If you ride on your own or with a pal and would you like to now join a friendly club; why not contact us at wt88cc@gmail.com
You would be part of a friendly cycling club that promotes events, social activities and encourages junior and women riders.
You can ride with us up to three times as a guest. After that, you'll need to become a member if you want to carry on riding with us.
We're not being picky because we want your money, it's a legal requirement of our Organisers' Liability Insurance. You would have to pay for this necessary third party insurance.
Annual membership starts every October and is £20.00/annum.
We're affiliated to national cycling charity 'Cycling UK' and 'British Cycling', so when you join, you can join either of them and thus obtain your needed third party insurance.
There is an Annual Club Dinner & Trophy Presentation during the close season. Also, at the end of our Club 10 series around the end of August, the club has a traditional social get together over a curry, where we celebrate another successful year in the saddle.